Greetings and welcome to Lady Braya's Medicine. Native Americans place items of personal power within a medicine bag or pouch. This is then carried with them throughout their lives. This website represents my medicine bag. Though my bag is much more than just a few items. Here you will find my personal experiences and religious beliefs and followings along with my writings. All of these are in a way a part of my true medicine bag with I physically carry with me on a daily basis.
Please follow the links below to the various places within my website.

The Rose Garden: The adoption experience
Mystical Waterfalls: My spiritual experiences
Cozy Corner Cafe: My writings
The Medicine Path: a sensitive support site for abortion survivors
If you would like to contact me you can reach me through email at Lady_Braya@excite.com, through ICQ #2480281, and through AOL/AIM name Lady Braya.
I Am A Proud Member Of: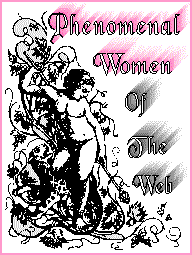 Phenomenal Women Of The Web