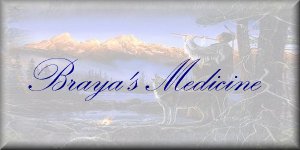 I walk within the Spirit World. I listen and converse with my ancestors, learning their wisdom and their patience, for I have many lessons to learn. My ancestors empower me with knowledge, kindness, humility and respect. These are the tools of the Old Ways. Tools that tend to be brushed aside in our busy modern lives. I walk the path of my ancestors so that one day I can face the Great Spirit with honor and pride.

Greetings and welcome to my web page. Here you will find a unique blending of Native American spirituality and British Celtic Druidism. After many years of being spiritually lost I began to discover my roots and in turn brought me to a pagan way of life. I have tried to provide here the knowledge I have gained in my spiritual search in hope to share my findings with others. Below you will find various topics within my web site.Please note the following for all who may or may not follow the same spiritual path as myself:I have put this page up to educate people and share my beliefs. Please respect me, my beliefs, and my website. Thank you. Click here to read more about my position on religious freedoms.
Brightest Blessings to all,
Lady Braya
E-Mail: LadyBraya@excite.com
ICQ me: 44832044
Or you can leave me a message here.

Ceremonies, Exercises, and Tools

Essays

Native American Stories

Prayers

Web Rings

Credits
The Round Table Post messages or comments, let your voice be heard or chat in my personal chatroom!
The Temple Of The Living Earth -I am the co-founder and High Priestess for this Chicagoland temple, please take time to visit it and learn more about the temple.